Below: Build deep and lasting connections with your kids with these conversation starters.
As parents, we all desire to foster deep and lasting connections with our kids.
When they're babies, it's relatively easy to feel like we know everything about them. After all, we are intimately involved in every aspect of their lives, from feeding them to clothing them to putting them to sleep.
As they begin to get older though, our kids become more and more autonomous and that connection can feel like it's spreading thin.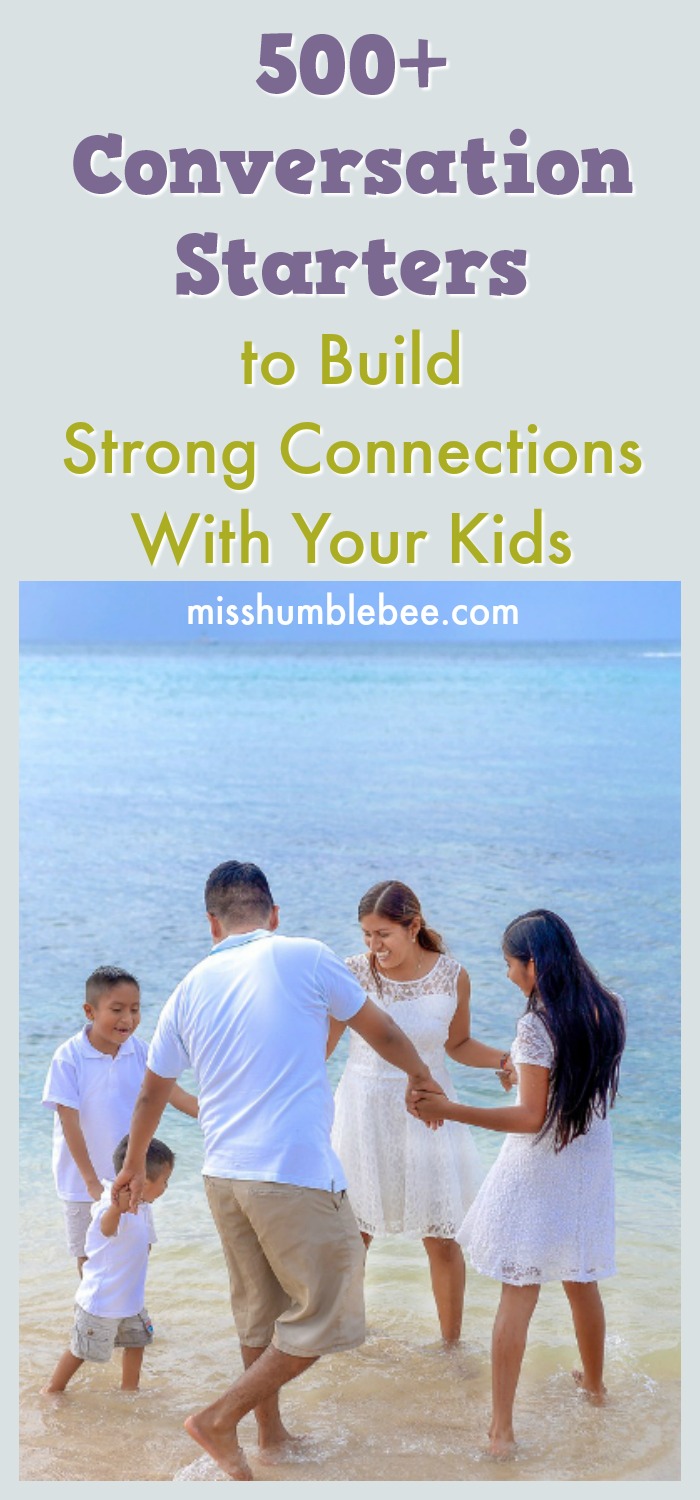 If you've felt as though you're losing touch with your child or if you simply want to avoid that from happening in the first place, it may be time to get to know your kids again.
Below are links to hundreds of questions and statements that will get your child talking. You can use them as dinnertime conversation starters, ask them in the car while driving to school, mention one at bedtime to get your children thinking as they drift off to sleep, or whenever is most convenient for your family.
These conversation starters are meant to spur thoughtful dialogue. Some are deep, some are fun, all require more than a one word answer.
As you begin to weave these questions into your daily life, you'll probably be surprised by some of your child's answers. You'll learn things about your child you didn't know. We encourage you to answer the questions as well. This will allow your child to learn more about you too, making the parent child bond that much stronger.
500+ Conversation Starters to Build Strong Connections With Your Kids
101 Conversation Starters with Kids :: Rockbrook Camp for Girls
175 Conversation Starters for Family Discussions :: Aha! Parenting
Family Dinner: 50 Conversation Starters for Young Kids :: AT Parenting Survival for All Ages
Cutting the Chaos of Dinnertime With Kids (31 Conversation Starters) :: Oh, Honestly!
Table Topics: Conversation Starters for Family Dinner Time (101 Conversation Starters) :: Dating Divas
Kid Conversation Starters (40 Conversation Starters) :: All Pro Dad
99 Family Conversation Starters :: Kids Activities Blog
Think of some questions you didn't see listed? We'd love to hear them! Tell us in the comments below.