Below: Teach manners to your child with these tips that are nag-free! 
Before becoming parents, we all have certain expectations about what our children will be like. We envision what they'll look like, who they'll take after, and how they'll behave. We know they won't be perfect, but many parents-to-be have confidently uttered the phrase, "My child would never (fill in the blank)!"
Once we have kids though, our perception changes. We begin to realize that they aren't born with the the capacity for rational thought and discussion, and the social norms we assumed they'd just "get" are not innate.
Over time we discover that in order to raise children with manners, we must teach them manners.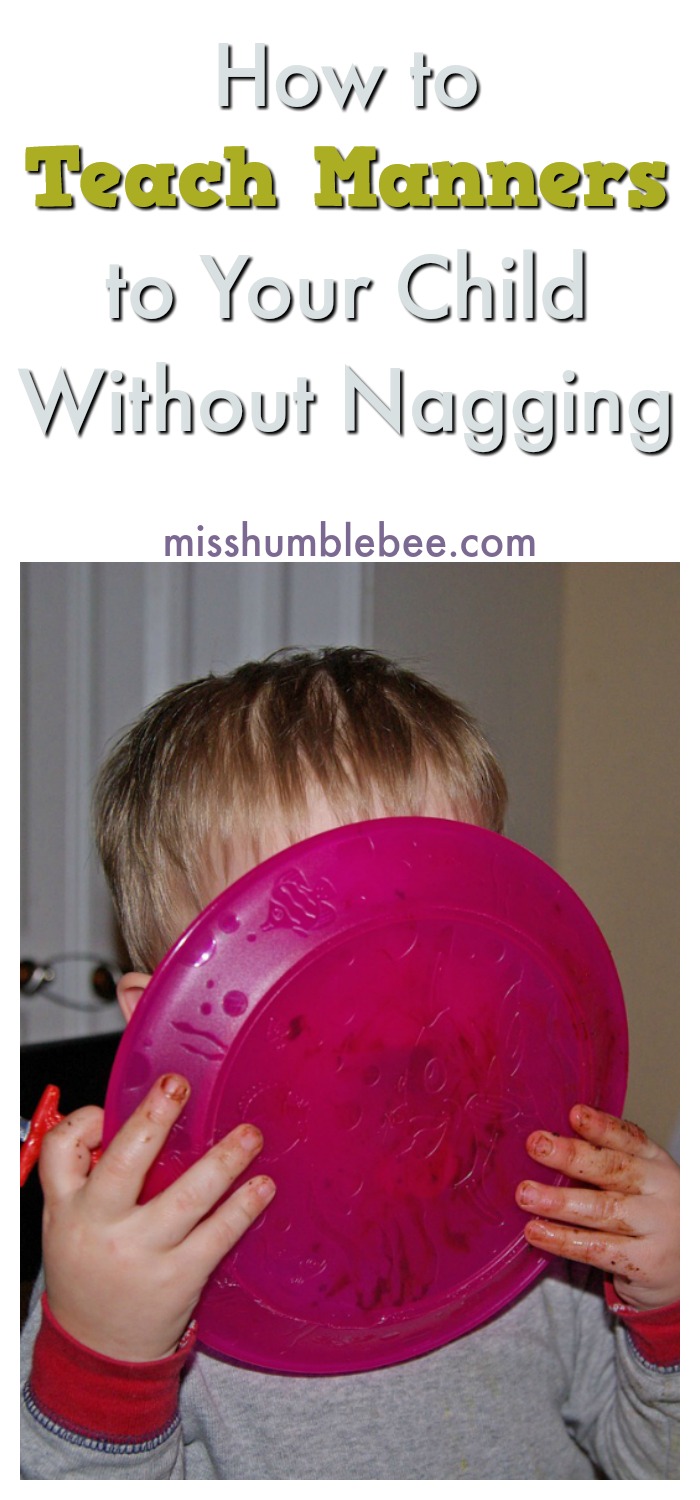 How to Teach Manners to Your Child Without Nagging
Why bother to teach manners?
Children who learn manners are better able to navigate social interactions, which they'll need both in school and as adults.
Manners not only help children with social interactions, but may also advance them farther than a person who lacks manners. Consider two job applicants with similar resumes. If the only difference is that one is polite and the other is not, there's a good chance the well-mannered applicant will get the job.
So we must teach our children manners. It sounds simple enough, and in many ways it is. There is no secret formula or step-by-step guide where missing one step will derail your efforts.
There are however, certain things you can do to help teach your child manners.
Start early
The sooner you start teaching your child manners, the easier it will be. Habits that form early in life will last a lifetime.
For example, you can teach your child to say please and thank you with sign language before he even begins to talk. It will then be a natural transition to the verbal please and thank you when he learns to say those words.
Be a model
We've all experienced that cringe-worthy moment when something we've said comes out of our child's mouth and sounds… not so great.
Our kids are watching us all the time, even when we don't realize it, so it's incredibly important that we model the behavior we want them to learn.
That means, among other things, that we use polite words and tone, demonstrate good table manners, and treat others with respect, regardless of who they are or how old they are.
Be consistent
Consistency is one of the hardest, but most important, parts of parenting.
If you want your child to learn manners, you must consistently require them to use manners. Making your child ask politely for a cookie one day but not the next sends confusing signals to your child.
Think of it this way: You're actually doing your child a disservice when you're inconsistent because he never knows what to expect from you or himself.
Set high expectations
While expectations must be age appropriate, there's nothing wrong with setting a high bar. Children are often capable of far more than we give them credit for, and they usually rise to the occasion when presented with a challenge.
Make it fun
Teaching manners should not be a full-time nag session: "Sit up. Say please. Don't do that. Do this. Say thank you. Stop interrupting…" Ugh, who wants to learn (or teach) like that?
Instead, along with your everyday interactions, you can teach manners to your children through games and role playing.
ModernMom offers several game ideas and HowDoesShe has 18 fun activities to teach manners.
What manners might you want to teach your child?
Some to consider are:
Saying Please, Thank you, Excuse Me, and No thank you
Not interrupting
Using polite greetings (eye contact, saying hello, shaking hands)
Using table manners (using utensils and a napkin, chewing with a closed mouth, not talking with food in your mouth)
Not commenting negatively on another person's appearance
Covering your mouth when you cough or sneeze
 Knocking on a closed door before entering a room
Holding doors open for others
Apologize/make amends when you've done something wrong
What methods have you found effective for teaching manners to your children?