Language & Literacy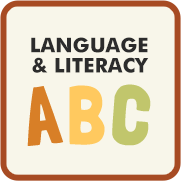 Miss Humblebee's Academy language and literature helps children develop skills required by the Head Start Child Development and Early Learning Framework and the Common Core State Standards. Preschool through kindergarten-aged children learn basic concepts and build a strong foundation in letter knowledge and sound. The curriculum gradually becomes more challenging as the child advances.
Children will learn:
Alphabet knowledge, sounds each letter represents and writing practice sheets
Upper and lowercase letter recognition
Follow multi-step auditory directions
Rhyming
Blends (br, tr) and digraphs (ch, sh)
Segmenting and putting sounds together to create words
Parts of a book
Comprehension
Categorizing like words
Sight words
Auditory discrimination; distinguishing the difference between bin and pin
In addition, your child and you will enjoy hours of educational and entertaining reading that spans many literature styles. You'll find traditional stories such as The Crow and the Pitcher and The Lion and the Mouse, as well as new stories and poems written exclusively for Miss Humblebee's Academy, all richly illustrated.