I admit it: I'm a sucker for hand and foot print crafts. There's something about seeing those tiny hands and feet immortalized and personified that always makes me say, "Awww!"
There seems to be a plethora of these crafts that pop up this time of year and I always find a new one that I want to make with my kids, but let's face it, you can only have so many hand print wall hangings before your house starts looking like a preschool classroom.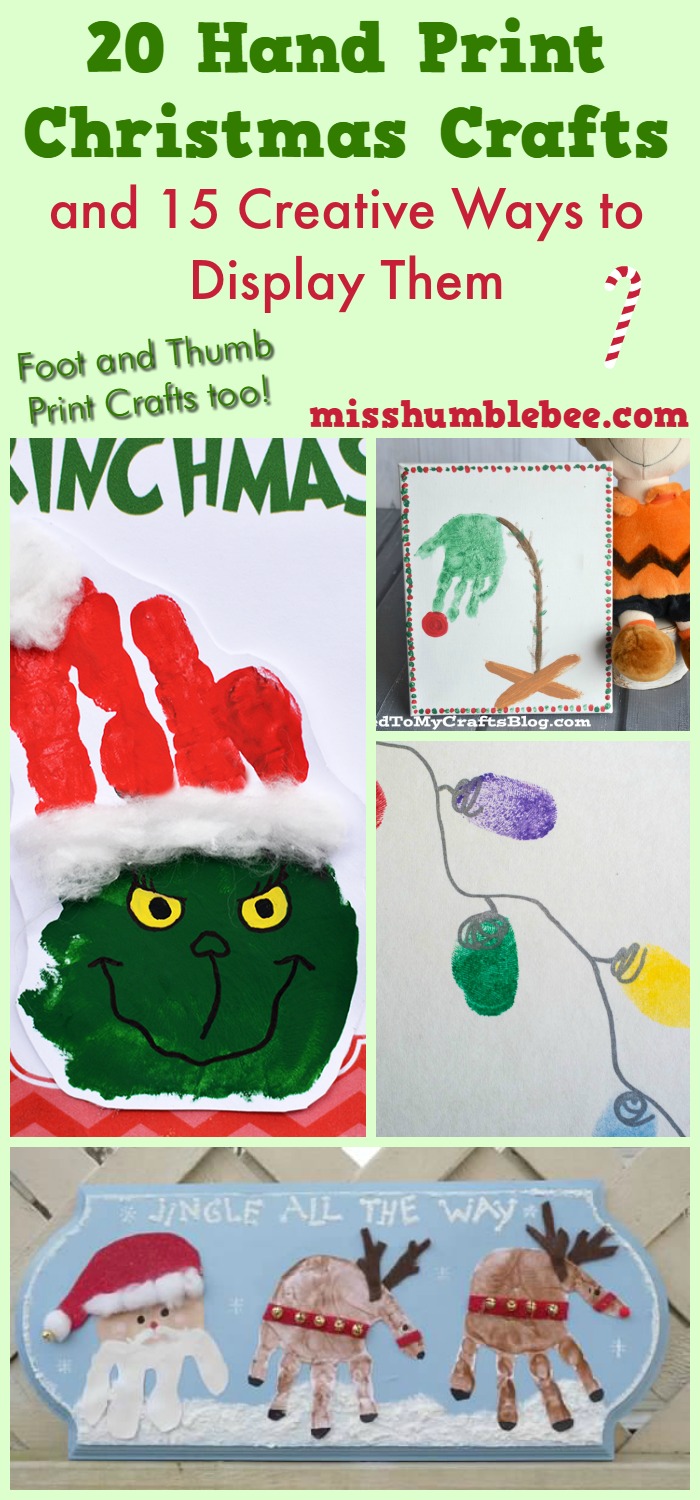 20 Hand, Foot, and Thumb Print Christmas Crafts
and 15 Creative Ways to Display Them
Below are not only a list of the cutest hand and foot print crafts I could find, but also a list of creative ways to display those crafts in a way that won't always require you to hang something on your wall.
15 Creative Ways to Display Your Crafts
Okay, maybe a few of these aren't terribly creative, but most are!
Paper
Fabric
Canvas
Plate
Platter
Mug
Glass
Pitcher
Mason Jar
Ornament
Plaque
Christmas Cards
Tee-shirt
Tea Towels
Mirror
20 Hand, Foot, and Thumb Print Christmas Crafts to Try
1. Thumb Print Christmas Cards :: Upstate Ramblings
2. Christmas Hand Print Plaque :: One Artsy Mama
3. The Grinch Hand Print Christmas Card with Printable :: I Heart Arts n Crafts
4. Hand Print Charlie Brown Christmas Tree Keepsake :: Glued to My Crafts
5. Candy Cane Thumb Print Craft :: Leapfrog & Ladybugs
6. Hand Print Snowflake Art :: Fun Handprint Art
7. Christmas Elf Hand Print Craft :: Classified: Mom
8. Hand Print Nativity Animals :: Planet of the Apels
9. Hand and Foot Print Angel Craft :: Motherhood on a Dime
10. Foot Print Penguin Canvas Keepsake :: Fun Handprint Art
11. Hand Prints onto Ceramics :: Painted Zebra (there are a few really cute Christmas ones here including a mouse and carolers)
12. Christmas Hand Print Reindeer :: Mommysavers
13. Holiday Hand Print Wall Art :: LTD Commodities (it tells you it's no longer available, but you can replicate it from the picture)
14. Fun Christmas Hand Print Art :: Mudpies and Tiaras (Santa, reindeer, angel, and more)
15. Five Fingers Snowman Ornament :: Full of Great Ideas
16. Baby Foot Print Mistletoe/Holly Decoration or Ornament :: Family Crafts/About.com
17. Christmas Reindeer Foot Print Craft :: Preschool Crafts for Kids
18. Christmas Foot Print Snowman Art :: Parallel Parking
19. Reindeer Thumb Print Ornaments :: Little Bit Funky
20. MistleTOES :: Pinkie for Pink
Which will you try? Stop by our Facebook page and let us know!