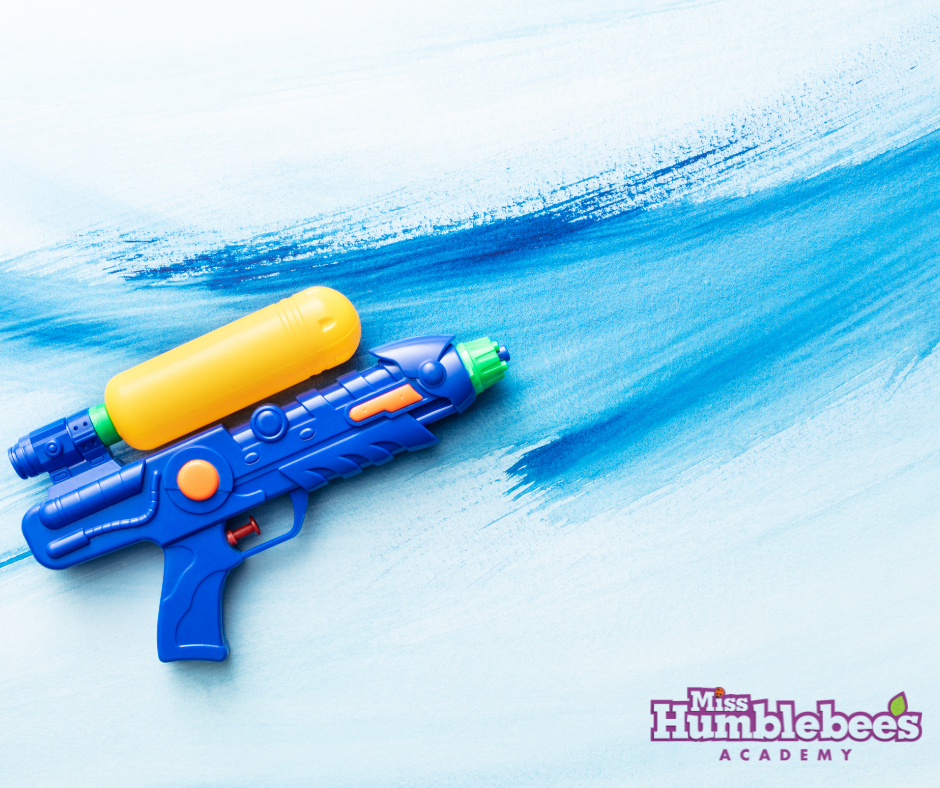 Regardless of the weather, this squirt gun painting is an activity that will be fun for the whole family! Toddlers all the way through adults will enjoy this project that only takes a few simple materials. Read on for more information!
For my daughter's second birthday, I needed to come up with an activity at our home that would entertain not only my young toddlers, but also their friends who are a bit older than they are. I also needed something that could be done either outside or in our garage–see, I knew with her having a spring birthday that we couldn't count on great weather even if predictions were in our favor. That's when I came across the idea of painting with squirt guns! Who doesn't love a good squirt gun game? Funny enough, the adults got a kick out of this activity as well.
All you need:
Water
Squirt guns
Washable (or acrylic, if you're daring) paint
Paper/board of some sort (I used Water Paper)
Clothespins/clamps (or something to hold the paper in place)
How it works:
Simply fill the squirt guns with the paint, and add a bit of water to dilute the coloring.
Then, shoot the paint at your paper, and create your beautiful masterpiece!
Tips:
If doing this activity in a garage like we had to, use a backdrop behind the paper for less cleanup. I have a backdrop stand, and we attached a plastic tablecloth to the stand, then clothes-pinned the water paper to the table cloth.
If you don't have a way of attaching the paper to anything, try just putting the paper on the ground! Still fun and still effective.
So that everyone knew which squirt gun held each color, I intentionally used a variety of colored squirt guns and put the corresponding paint color in each.
Be creative, be messy, and enjoy!