Below: Teach these 10 skills to your child before kindergarten begins to help them make a smooth transition.
Making the transition from preschool to elementary school can be a challenge for some children. They are expected to conform to tighter rules and learn lessons that could determine how quickly they are promoted to the next grade level.
Because this transition is overwhelming for many students, parents may want to help their kids adjust by undertaking certain kindergarten prep lessons at home. The following ten skills to teach your child before kindergarten begins can help make the move from preschool to her first year in regular school easier.
By beginning these lessons early, you can help your child ease into them until they become part of their normal routine, making the transition to kindergarten that much easier.
10 Skills to Teach Your Child Before Kindergarten Begins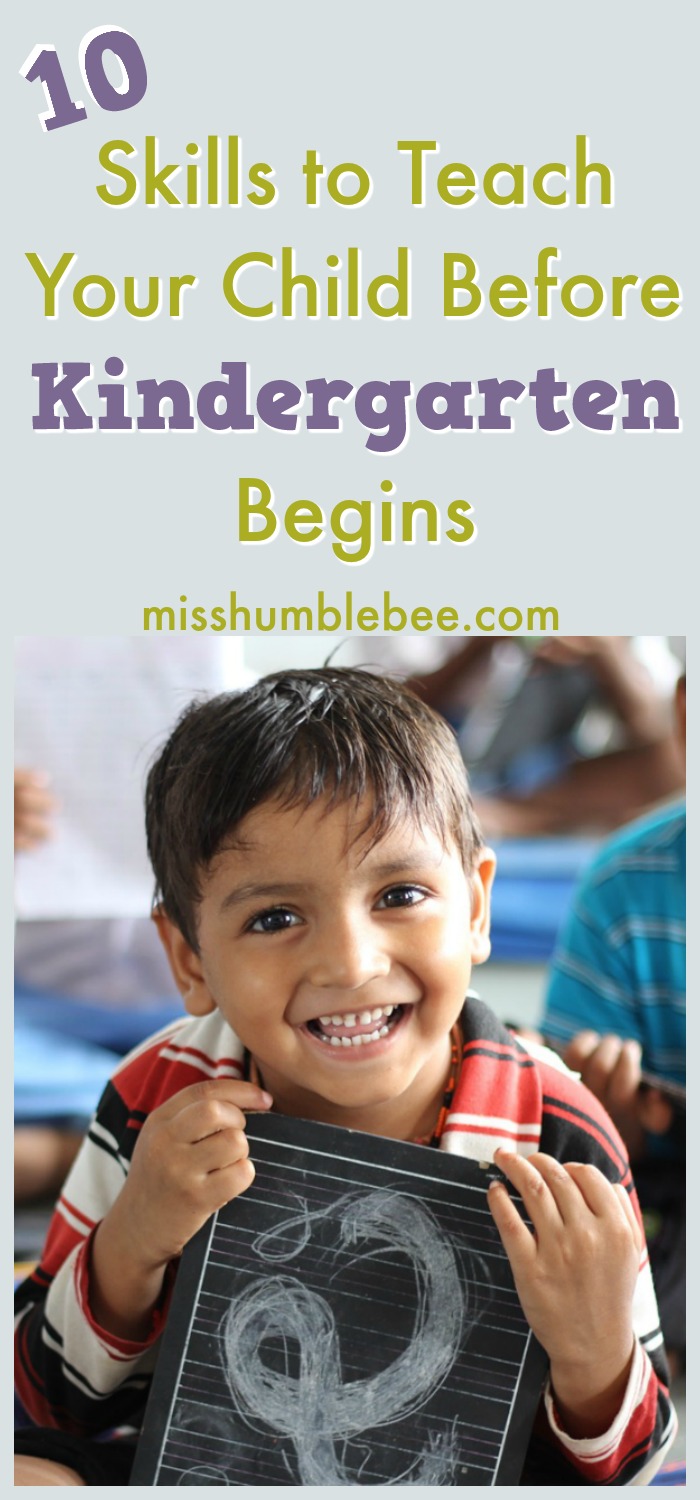 1. School drop-off
Many preschoolers are very attached to their moms and dads. When they walk into a classroom for the first time, these young ones might cry or become afraid. Moms and dads can let their children know that the separation is only for a few hours and that they will all go home together later.
While this may not be easy to work on before school begins, especially if your child is not going to a traditional preschool or daycare, frequently talking to your child about what to expect can go far in alleviating your child's fears. You can also set up opportunities for your child to spend time with a trusted friend or family member, allowing them the chance to get used to saying goodbye and then seeing you again later.
2. Potty Training
Most schools require kids to be potty trained and to know how to go to the restroom without assistance. This includes pulling their own pants down and up and doing fasteners, like zippers, snaps, and buttons.
If your child has trouble with these things, it doesn't necessarily mean she won't be able to go to school. While she continues to master those skills, she can wear pants with elastic bands that are easy to pull up.
3. Other Self-Help Skills
Students need to know how to wash their hands without help and blow their noses when appropriate without being reminded. While not required, it is helpful if your child is capable of opening and closing his own snack and lunch containers as well.
4. Behavior
School is likely to have different rules than home. Similarly, the consequences for breaking the rules probably also differ. If the rules at your home tend to be loosely enforced, be aware that their teacher might not have the same approach. Thus, you may want to work on this before school begins so that your child understands that the classroom will have rules and that breaking the rules can have consequences.
5. Respect
Along with obeying, kids might need to be reminded to treat others with respect. Bullying has become a big problem in recent years and schools take it very seriously. This makes it necessary for children to learn to treat others with kindness, especially when they are young, so that those behaviors persist for the rest of their lives.
6. Confidence
Along with learning to treat everyone with kindness, children also benefit from learning to stick up for themselves in a respectful manner. Whether facing a bully of their own or a friend who does not understand a difference, learning to be confident in who they are is a skill that will always serve them well.
7. Avoiding distractions
Schools can be distracting places with noises going on outside the building and in the hall and a lot of things to look at and play with inside the classroom. Children can be taught skills to help them pay attention to their teacher and lessen the distractions around them. Simple things, like clearing off her desk, can help your child better pay attention.
8. Getting work done
Along with avoiding distractions while listening to their teacher, children must also learn to avoid distractions while working. Although kindergarten is the 'training ground' for the rest of their school career, teachers still expect children to learn to do their assignments in a timely manner.
You can turn this into a game with your child by setting a timer and having him try to complete certain tasks within the specified time frame. This makes it fun while also teaching him how to focus on the task at hand.
9. Avoiding being a distraction
If you've ever been in a room with a dozen or so young children, you know that it is not an easy place to focus. Children love to talk and move, and while there should be plenty of opportunities for that in the classroom, there will also be moments when children need to focus on a quiet task. If your child constantly interrupts or distracts other students, it won't be fair to any of them (your child included).
10. Taking school seriously
The last lesson that could come in handy for success in early childhood education is encouraging kids to take their first year in school seriously. Even though they are young, kindergartners can still be told that this initial year of schooling gives them the foundation on which their future schooling will be based. If they are taught to respect their educations, pupils might try to do their best and become successful students who go far in life.