Stuck in a story time rut? These 70+ best books for kids offer fresh stories to keep both you and your child interested in reading!
It's bedtime. You tell your child to pick out one book and you'll read it before you turn the lights out. They grab one off the shelf and you shudder when you see the cover.
"Don't you want a different one tonight?" you plead. "We've read this one every night for the past month."
If you've ever gotten into a story time rut, you know what it's like. Your child chooses one book as his favorite and you read it over and over again until you could recite it in your sleep. If you just can't handle reading that same book even one more time, we have the solution.
We've gathered up the titles of over 70 fantastic children's books. Some are classics, some will be new to you. Either way, you're sure to find something that your child will enjoy and that will pull you out of your rut. These are over 70 of the best books for kids.
Happy reading!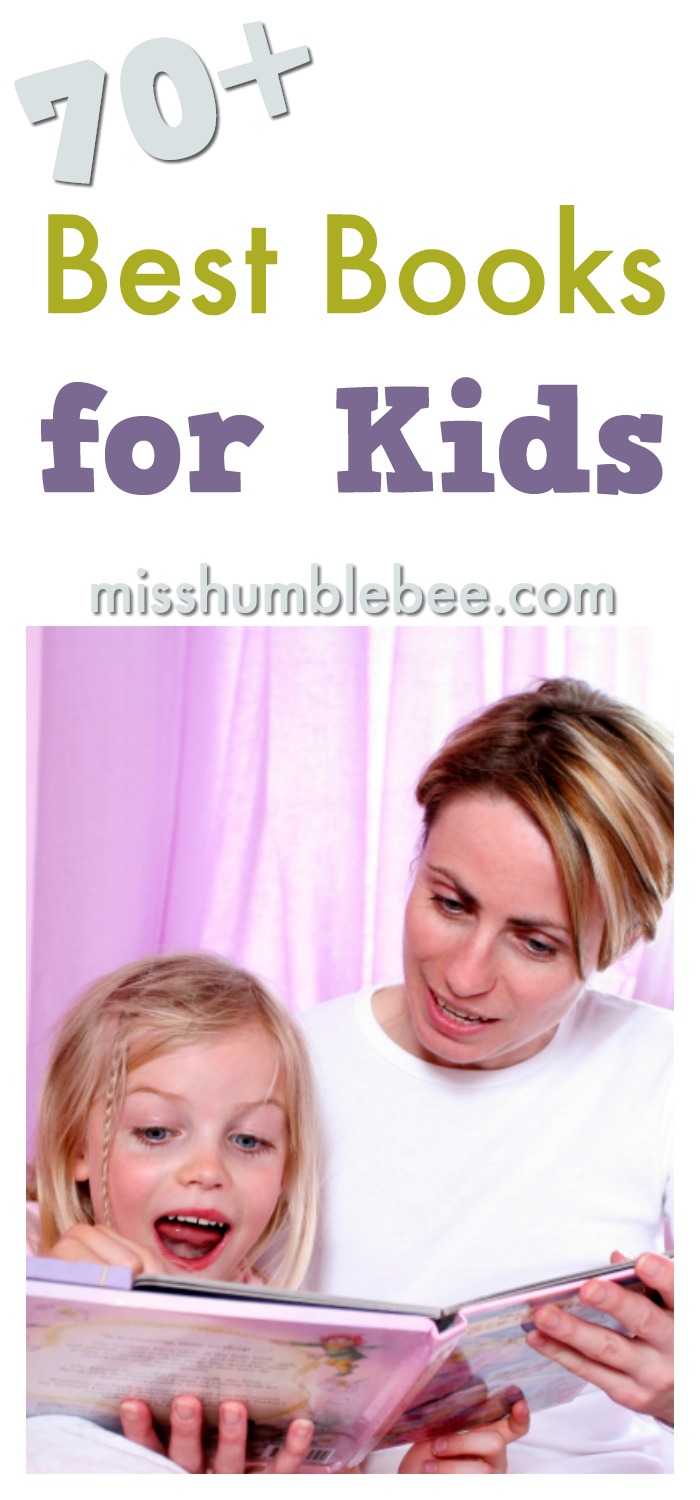 70+ Best Books for Kids
Each Peach Pear Plum– Janet Ahlberg
Where's My Teddy?– Jez Alborough
Old Black Fly– Jim Aylesworth
Ten, Nine, Eight– Molly Bang
Animals Should Definitely Not Wear Clothing– Judi Barrett
The Three Bears– F. Rojankovsky
Madeline– Ludwig Bemelmans
Little Gorilla– Ruth Bornstein
The Mitten– Jan Brett
Goodnight Moon– Margaret Wise Brown
Flower Garden– Eve Bunting
Mr. Gumpy's Outing– John Burningham
Stellaluna– Janell Cannon
The Very Hungry Caterpillar– Eric Carle
Five Little Monkeys Jumping on the Bed– Eileen Christelow
Freight Train– Donald Crews
Click Clack Moo: Cows That Type– Doreen Cronin
Happy Birthday, Jamela!– Niki Daly
Strega Nona– Tomie dePaola
Jamberry– Bruce Degen
The Empty Pot– Demi
Llama Llama Red Pajama– Anna Dewdney
Abuela– Arthur Dorros
Growing Vegetable Soup– Lois Ehlert
Go Away, Big Green Monster!– Ed Emberley
Stella Louella's Runaway Book– Lisa Campbell Ernst
Mean Soup– Betsy Everitt
Olivia– Ian Falconer
Bark George– Jules Feiffer
Ask Mr. Bear– Marjorie Flack
Mama Cat Has Three Kittens– Denise Fleming
Corduroy– Don Freeman
Millions of Cats– Wanda Gag
Henny Penny– Paul Galdone
The Three Little Pigs– Patricia Seibert
Orange Pear Apple Bear– Emily Gravett
Is Your Mama a Llama?– Deborah Guarino
Lilly's Purple Plastic Purse– Kevin Henkes
Where's Spot?– Eric Hill
Do Like a Duck Does– Judy Hindley
Bedtime for Frances– Russell Hoban
You'll Soon Grow Into Them, Titch– Pat Hutchins
Harold and the Purple Crayon– Crockett Johnson
Mama, Do You Love Me?– Barbara M. Joosse
Jump, Frog, Jump!– Robert Kalan
The Wolf's Chicken Stew– Keiko Kasza
The Snowy Day– Ezra Jack Keats
The Caterpillar and the Polliwog– Jack Kent
I Took My Frog to the Library– Eric A. Kimmel
Leo the Late Bloomer– Robert Kraus
The Carrot Seed– Ruth Krauss
Tacky the Penguin– Helen Lester
Swimmy– Leo Lionni
Froggy Gets Dressed– Jonathan London
Fancy Nancy– Jane O'Connor
George and Martha– James Marshall
Brown Bear, Brown Bear, What Do You See?– Bill Martin Jr.
Guess How Much I Love You?– Sam McBratney
Make Way For Ducklings– Robert McCloskey
Widget– Lyn Rossiter McFarland
I Stink!– Kate and Jim McCullan
The Jacket I Wear in the Snow– Shirley Neitzel
If You Give a Mouse a Cookie– Laura Numeroff
Kermit the Hermit– Bill Peet
The Little Engine that Could– Watty Piper
Officer Buckle and Gloria– Peggy Rathmann
Curious George– H.A. Rey
Mouse Mess– Linnea Riley
We're Going On a Bear Hunt– Helen Oxenbury
The Relatives Came– Cynthia Rylant
Best Storybook Ever– Richard Scarry
The True Story of the Three Little Pigs– Jon Scieszka
Annabelle Swift, Kindergartner– Amy Schwartz
Where the Wild Things Are– Maurice Sendak