Whether your child is in the pre-reading stage of development or is starting to read on his own, having a reluctant reader can be hard on both your child and you.
As a parent, you know how important reading is, and will continue to be, in all areas of your child's life, but it can be difficult to know how to get your child excited about reading when he either shows little to no interest or even actively resists anything reading related.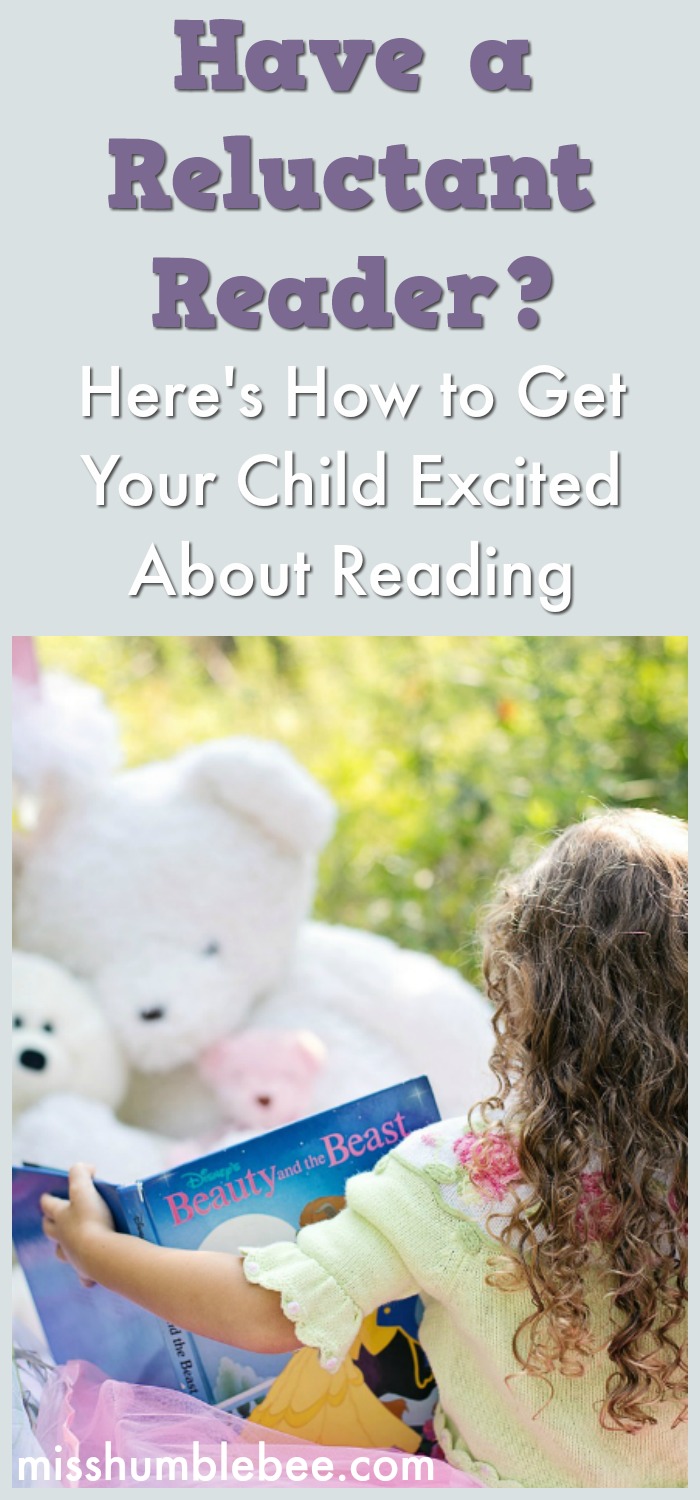 Have a Reluctant Reader? Here's How to Get Your Child Excited About Reading
The following tips will help reluctant readers move towards becoming active, engaged, and excited readers.
1. Don't Push
Of course you want to do everything in your power to prepare your child for school and to stay on track once in school, but it's important to remember that every child develops at a different rate. Applying constant pressure on your child to read could have the opposite effect from what you're trying to do, making her even more reluctant to read.
Pay careful attention to your child's cues. When you see her getting frustrated, back off, giving her space and time to do other things in which she's interested.
2. Hang Out at the Library
Surrounding your child with books on a regular basis is a great way to get him interested in them. The library is the perfect place to do this. Not only are there thousands of books available at the library, but there are also many other things to do.
Many children's sections have toys and games to use. They also offer a variety of scheduled activities, such as story time, movie nights, Lego club, and much more.
Libraries also come equipped with an incredibly valuable resource: Librarians. Children's librarians are masters at helping children get excited about reading.
3. Let Your Child Choose the Books
It may seem obvious to let your kids choose the books they want to read, but we often end up with a selection of books from our own childhood or from friends and family, and we rely on those as the books we offer our kids.
Instead let your child pick out whatever books she wants at the library. Sometimes this will simply be based on the cover picture; other times she might have a certain topic in mind. Either way, check them out and bring them home.
It's inevitable that she will pick duds sometimes. Don't make her read them for the sake of reading them! That's a surefire way to stifle her love of reading. You should however, take note of the ones she ends up enjoying and steer her towards that sort the next time you visit the library.
4. Read Aloud
Whether your child knows how to read already or not, spend time together reading aloud to him (and letting him read to you if he wants). It's not only a great way to spend time together, but it exposes him to reading in a stress-free way.
Audio books are another great way to 'read aloud'. They give your child some autonomy (he doesn't have to wait for you to be available to read) and they're great for auditory learners.
5. Don't Just Rely on Books
There are so many things to read in the world besides books. If your child isn't showing interest in books, try other things. In fact, even if your child is interested in reading books, make reading a regular part of your day-to-day interactions.
Some of the things you can read in addition to books are:
magazines
recipes
street signs
websites
comic books
graphic novels
letters/email
6. Get Them Writing/Story-Telling
Give your child a break from reading by getting them writing or story-telling. Telling stories is an excellent way for kids to improve their vocabulary and comprehension, as well as get a better grasp on the elements of a story, such as plot, setting, and characters.
One way to do this is to take turns at bedtime with a recurring story. You can start a story one night, stopping before the story finishes, and let your child continue the story the next night.
7. Get Physical
Sometimes the best way to get a reluctant reader interested in reading is to do something else. There are plenty of ways to incorporate reading into active play.
For instance, if your child likes basketball, play a game of HORSE. You can choose different words to spell each time, or if your child isn't reading yet, use the game as a way to work on the alphabet.
Check out our DIY section for more ideas.
8. Give Your Child Something Else to Read To
According to research conducted by Tufts University, allowing kids to read to therapy dogs improves their attitudes about reading. Google "read to therapy dogs in [your city]" to find a program in your area.
If you don't have a dog available, your child might enjoy setting up his stuffed animals or favorite toys and reading to them.
9. Give Your Child Time
As mentioned earlier, every child develops at her own pace. If she is making progress and her teachers are not concerned, keep working with her, knowing that it will 'click' when she's developmentally ready.
Remember, helping your child learn to love reading is a process that takes time. There will be steps forward and steps back, but if you're patient and consistent, you will see your child's reluctance to read turn into a love of reading.