If your child is approaching school age, you may find yourself facing many questions regarding her education. Often the biggest question is, "Is my child ready?"
Several weeks ago we shared a post titled Kindergarten Readiness: What It Is and How to Get There. In it, we gave a brief overview of the basic skills that children are expected to know when they enter kindergarten.
Over the next few weeks, we will dive deeper into each category (academic, social/emotional, and physical/motor development), taking a more in depth view of the skills children need, as well as offering resources to help work on those skills.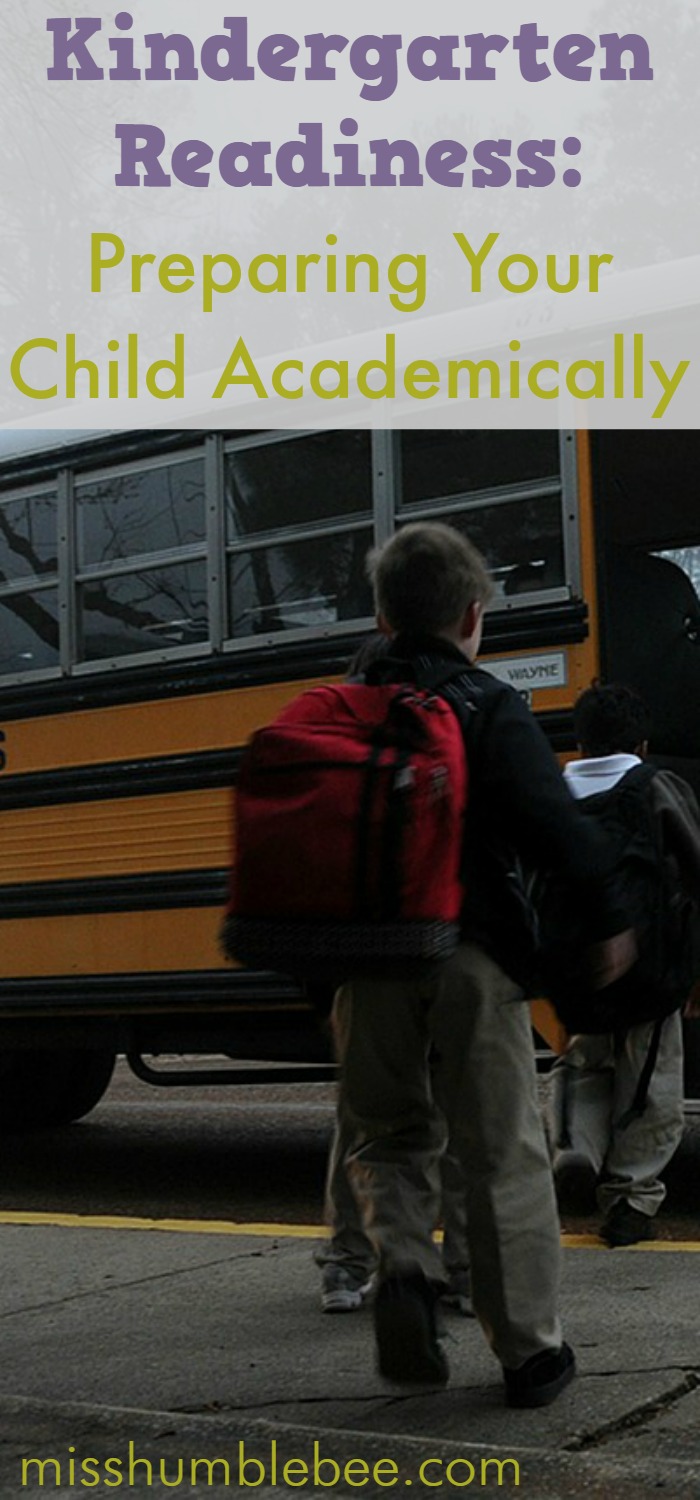 Kindergarten Readiness: Preparing Your Child Academically
This week our focus is on the academic skills necessary for kindergarten.
Please note that every child develops at his own pace. Your child may excel in some areas and have a harder time in others, but not having mastery of every single skill does not necessarily mean he is not ready to start kindergarten. Take a big picture view when determining your child's readiness.
Academic skills focus on two main areas: Language/literacy and mathematics. Though we won't cover every skill within this post, we have a comprehensive Kindergarten Readiness Checklist available when you sign up for our weekly newsletter.
Language/Literacy
Some of the skills your child needs to be ready for kindergarten are:
Language: Speaks in complete sentences, can follow simple directions, uses descriptive words, etc.
Resources to help with language:
100 Kids Literacy and Language Activities– Nurture Store
Oral Language Game– Ready, Set, Read!
Print Concepts: Knows how to hold a book, that we read from left to right, that printed words have meaning, etc.
Resources to help with print concepts: 
Toys: A New Concepts of Print Pack– The Measured Mom
Teaching Left to Right Progression– PreKinders
Book and Print Awareness: From A to Z– This Reading Mama
Miss Humblebee's Academy
Letters: Recognition (upper and lowercase), letter sounds, writing the letters, etc.
Resources to help with letters: 
Alphabet Letter Mazes– This Reading Mama
Ten Letter Recognition Activities– The Measured Mom
Sensory Name Recognition Activity– Munchkins and Moms
Rainbow Hop Letter Sounds Game– Mom Inspired Life
You're Teaching Your Child Literacy Skills Without Even Realizing It– Miss Humblebee's Academy Blog
A Multi-Tasking Activity– Starfish Therapies
Crocodile Circle Time Fun– Making Learning Fun
Miss Humblebee's Academy
Mathematics
Numbers: Counting, identifying, writing
Resources to help with numbers: 
Fingerprint Counting Printables– Fun Handprint Art
Simple Counting Activity for Children– Laughing Kids Learn
Walk the Number Line– PBS Parents
Number Writing Activity. Salt Tray Game.- Learn With Play at Home
You're Teaching Your Child Math Without Even Realizing It– Miss Humblebee's Academy Blog
Shapes, Colors, Sizes: Recognize, sort, match, create patterns, etc.
Resources to help with shapes, colors, and sizes:
Roll and Hop Shape Game– I Can Teach My Child!
"I Have, Who Has" Shape Game– PreKinders
Color Activities for Hands On Learning– Little Bins for Little Hands
Printable Shape Matching and Size Sorting Activity– Powerful Mothering
Although this list may seem overwhelming, your child probably already knows some or many of the things we've discussed today.
We highly suggest getting our Kindergarten Readiness Checklist in order to get a full picture of what your child already knows and what she is still working on. Not only will it give you a broader view of whether your child is ready for kindergarten or not, but it will also give you knowledge of the specific skills to focus on when working with your child.
Join us next week as we focus on the social and emotional skills necessary for kindergarten readiness!