Friends make our bad days bearable and our good days better. Over the past several weeks the Miss Humblebee's blog has been all about friendship: Teaching our children interpersonal skills, teaching them how to be a good friend, and teaching them empathy.
In honor of National Friendship Day on August 7th, we're wrapping up our friendship series with a list of ideas to help your child celebrate his or her friends.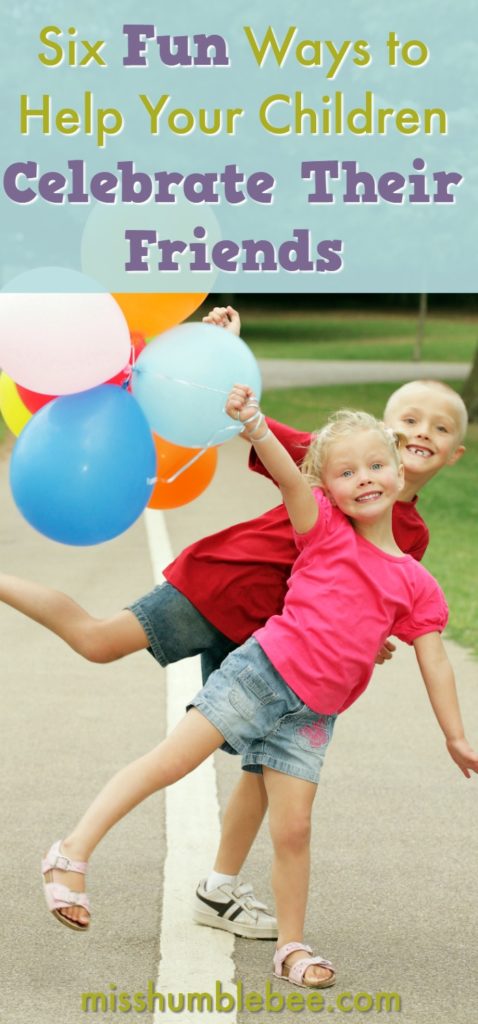 Six Fun Ways to Help Your Children Celebrate Their Friends
If you happen to be reading this after National Friendship Day, don't worry! These ideas are usable year-round. After all, every day is a good day to celebrate our friends!
1. Make friendship bracelets- When we were kids, friendship bracelets were made from embroidery floss, but rubber band bracelets are all the rage these days. Not sure which your child would prefer? Check out these tutorials for each:
Easy Braided Chevron Friendship Bracelet :: Capital B
Rubber Band Bracelets Without a Loom :: Dan's Crafts and Things
2. Make a friendship necklace kit- If your child isn't interested in making a bracelet, but likes the idea of giving his friend some sort of jewelry, try this fun idea from Inner Child Fun. It's also great for kids who might not have the fine motor skills necessary to make the bracelets.
3. Send a letter- Every child loves getting mail and they'll feel extra special when they discover that it's a note from a friend. If your child can write, she can send a message letting her friend know why she likes her. If she can't yet write, she can still draw a picture that her friend will love.
4. Plan a play date- Let your child plan a play date with his friend's interests in mind. Maybe they'll go on an outdoor adventure, play a plethora of sports, or create an artistic masterpiece. No elaborate planning needs to take place; the most important thing is that your child chooses activities that he knows his friend enjoys.
5. Bake a treat- If your child knows her friend's favorite food, spend an hour in the kitchen helping her make it for her friend. Better yet, invite her friend over and they can make it together and then share the fruits (or chocolates) of their labor.
6. Write a poem- There are many ways to go about this, but two are especially fun. If your child likes to rhyme, help him write a funny rhyming poem about his friend. If not, have him write his friend's name vertically on a piece of paper and then write a word that describes his friend for each letter in the name.
For example, if his friend's name is Jacob, the poem could look like this:
J oyful
A wesome
C lever
O h so fun
B est friend
What idea will your child choose? Do you have any great ideas to add to our list? Tell us in the comments below!