Have you ever browsed through Pinterest? Wait, that's a silly question. Of course you have! Let me be more specific.
Have you ever browsed through Pinterest and seen all the learning activities available for kids? Thousands upon thousands! Any concept or subject you can think of is covered.
Plenty of these activities are fantastic and many aren't terribly difficult to prepare, but usually when I scroll through my Pinterest feed, I end up feeling overwhelmed and inadequate. I'm not doing enough. I should be doing more. My kids are going to fall behind because we don't do all the activities!
If you've ever felt this way too, I'm here to offer some encouragement today. You may be teaching your children far more than you think, just by doing your day-to-day living.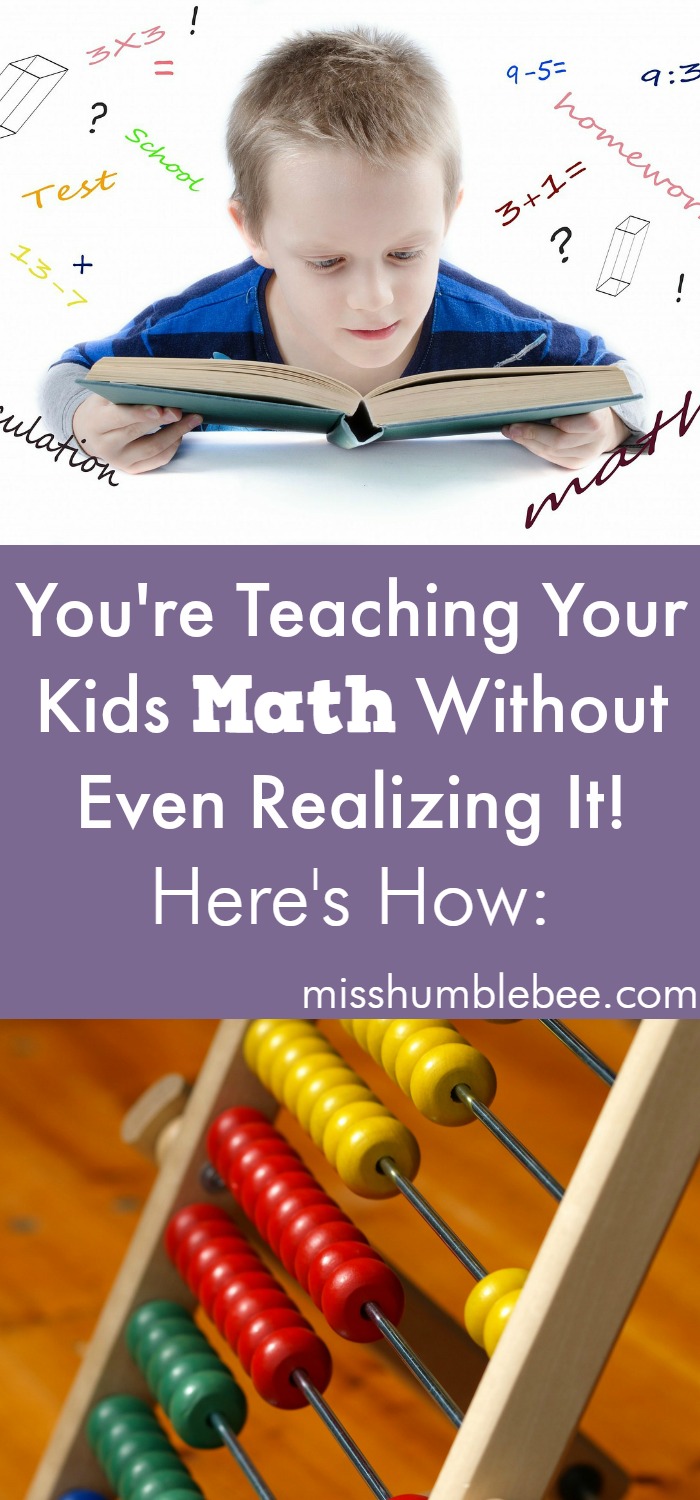 You're Teaching Your Kids Math Without Even Realizing It! Here's How:
Last week we talked about the benefits of pretend play and everything your child learns through unstructured play time. In the next few weeks, we'll take it one step farther. Each week we'll focus on one academic area (math, literacy, science, etc.) and discuss the everyday activities we do that teach our children concepts in these subject areas.
I think you'll be surprised at all your children are learning simply by living life. First up is math.
Laundry
Have you ever stopped to think about all the mathematical concepts present in this simple (though never-ending) chore? When children help with the laundry, they work on:
Sorting- First there are darks and lights, then once the clothes are out of the dryer, they're sorted by article (all towels in one pile) or person (all Anna's clothes in one pile).
Matching- Socks!
Size- "This is a big shirt. It must be Daddy's. This is a little shirt. It belongs to me."
Measuring- Allow your child to help measure the soap.
Sequencing- The laundry must be done in a certain order (sorting, washing, drying, folding, putting away)
Ordinal Numbers- First we sort, second we wash, third we dry, fourth we fold, fifth we put away.
Time- "We have 30 minutes until the clothes need to be moved from the washer to the dryer."
Money- These concepts are taught if you use a laundromat, but if you don't, you can always discuss the cost per load based on the price of detergent.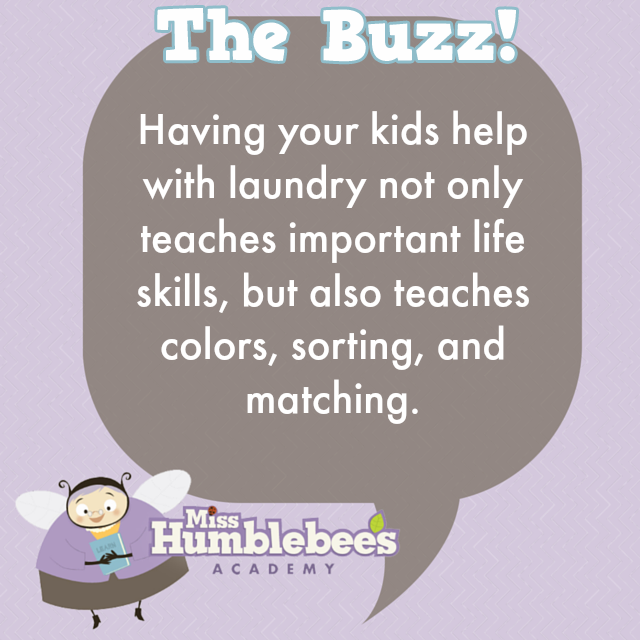 Cooking/Baking
If your children ever help you cook (and they should!) they're not just making a mess. They're also:
Beefing up their measuring skills- "To get a cup of flour we need this measuring cup to be full, but not overflowing."
Exploring volume- "Two cups of water fills this measuring cup!"
Improving number recognition- "That's the number 4. We need four cups of flour."
Counting- "We need four cups of flour. Let's count them out."
Using one-to-one correspondence- "I'll get three eggs out of the refrigerator. Here's one. Here's two. Here's three."
Adding and subtracting- "We've done three cups of flour. We need one more!"
Practicing fractions- "One half and one half make one whole."
Learning about time- "This recipe has to bake for 12 minutes."
Setting the Table
Don't bother doing this chore yourself. Let your kids do it and they'll practice:
Counting- "How many people will be here for dinner? Let's count."
One-to-one correspondence- "I have one, two, three, four, five plates."
Position- "The plate goes in the middle. The napkin goes on the side. The fork goes on top of the napkin. The knife goes next to the fork."
Sequencing/ordinal numbers- "First I put down the plate. Second I put down the napkin. Third I put down the utensils."
Shapes- Plates are circles. Napkins are squares or rectangles.
Riding in a Car
Riding in a car teaches some basic skills, but more advanced concepts are also explored at a very basic level:
Shapes- Street signs come in rectangles, circles, triangles, octagons, and more.
Number Recognition- Speed limit signs, mile markers, and exit signs all offer opportunities for you children to practice number recognition.
Velocity and acceleration- Your children may not need to know these concepts now, but gaining a primitive knowledge of them will help later in their educational careers.
Eating
Size/Comparison- Big, little, long, short, more, less.
Fractions- "Eat half of your chicken and then you can be done."
Shapes- "Cut my sandwich into triangles!" "These carrots are cylinders, but the potatoes are cubes."
Patterns- "I eat a bite of carrot, then a bite of chicken, then a bite of potato, then a bite of carrot, then a bite of chicken, then a bite of potato…"
Getting Dressed
Sequencing/Ordinal Numbers- First, we take our pajamas off. Second, we put on our underwear. Third, we put on our shirt. Fourth, we put on our pants. Fifth, we put on our socks. Sixth, we put on our shoes.
Position- "My pants go over my underwear. My underwear are under my pants."
Making Plans
Time- "There are two days until we go to your friend's house to play. Let's mark the days off on the calendar." "Now there are two hours until we go to your friend's house. Let's look at the clock."
As you can see, all of those everyday activities are actually chock full of educational benefits. So if you've been feeling guilty for not prepping a dozen learning activities for your kids to do each day, don't worry about it! Give them some chores instead and revel in the knowledge that you're teaching them far more than you realize.
What other day to day activities teach math? Share your ideas with us on our Facebook page.