Is there any better teacher than the Great Outdoors?
Nature provides limitless opportunities to explore, ask questions, experiment, and perhaps most important, simply enjoy.
Each year on April 22nd, the world celebrates Earth Day, a day to show support for protecting the planet on which we live. If you're thinking of celebrating this year, you'll find inspiration from the simple ideas below.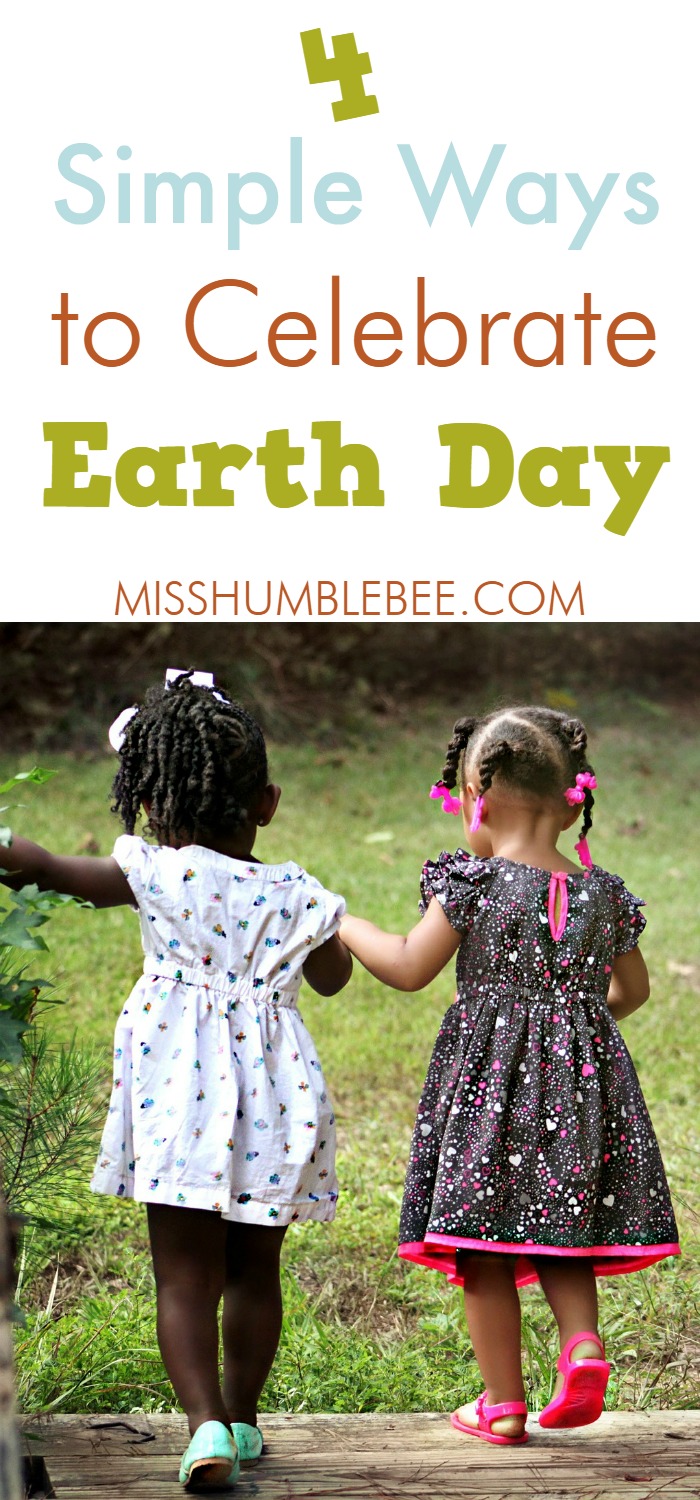 Four Simple Ways to Celebrate Earth Day
1. Go Outside!
That seems kind of obvious, doesn't it? But there's a good chance you don't go outside as much as you did when you were a kid, and the same is probably true of your children. In a world that grows more technological by the minute, we sometimes forget that there's a great big world outside our screens, just waiting to be explored.
Leave your phones in the house (unless you plan on some deep exploring; then you might want to take them with you in case you get lost 😉 ) and get outside. Where should you go? Here are some ideas to get you started:
Your own yard
Your neighborhood
A playground
A park
A campground
An arboretum
A walking trail
A mountain trail
A bike trail
The woods
The ocean
A lake
A river
A wildlife refuge
What should you do once you're out there? Use your five senses!
Look around. Take in the big picture, then narrow your focus to the tiny world underneath an overturned rock.
Listen. You might hear birds, squirrels, the leaves rustling, or waves lapping the shore.
Use your sniffer. What does a handful of dirt smell like? Has anyone recently cut their grass? Are there any blossoms on trees to breathe in their sweet scent?
Touch. Close your eyes and feel the wind on your skin. Run your fingers through prickly blades of grass. Pick up a handful of dirt and let it run through your fingers.
Taste. Only do this if you know beyond a shadow of a doubt that what you're tasting is safe!
2. Plant something
A flower, a tree, vegetables… Let your kids choose! Not only is planting good for the environment, it's an amazing learning opportunity for your kids. It teaches them about the life cycle of plants, about how to care for a living thing, about photosynthesis, and don't forget the character lessons of responsibility and patience.
3. Clean up
Gather a group of family and friends and clean up a little patch of earth. You might choose a roadside area since those are almost always covered in litter, or if you have younger children you can choose to clean up a space that isn't highly trafficked.
You may be met with grumbles when proposing this idea, but once you get out there, it's surprisingly fun and you'll feel good at the end of the day that you've done a little something to clean up the Earth.
4. Learn
Although the previous three ideas offer countless opportunities for learning, perhaps you want to be a bit more intentional. The following list of activities will encourage your children in specific skills or subjects, all related to the Earth.
Recycled Building STEM Activity :: Busy Toddler
Earth Day Water Pollution Activity: A Cross Curricular Inquiry Study :: Beyond Traditional Math (for school-aged kids)
Soda Bottle Watering Can :: Mess for Less
Milk Carton Bird Feeder :: Frogs Snails and Puppy Dog Tails
Playdoh Planet Earth :: Meet the Dubiens
Earth Day Emergent Reader Booklet :: KidSparkz
Clay Leaf Impressions :: The Artful Parent
Turtle Herb Planters :: Reading Confetti
Photo Nature Scavenger Hunt :: No Wooden Spoons
For more hands-on learning activities, many related to nature, check out our new DIY area (Look for 'DIY' in the navigation bar at the top of the page). It's still under construction, but new activities are being added all the time!