It's easy to think about kindergarten readiness and only focus on academics. School is not the same as it was 20 or 30 years ago and children are no longer able to enter kindergarten with no expectations upon them.
A basic academic foundation (knowing numbers and letters, for example) is necessary for a child to succeed in school (you can read more about it in our article that outlines the academic skills your child needs to be kindergarten ready), but academic skills are not the only thing to consider when deciding if your child is ready to begin school.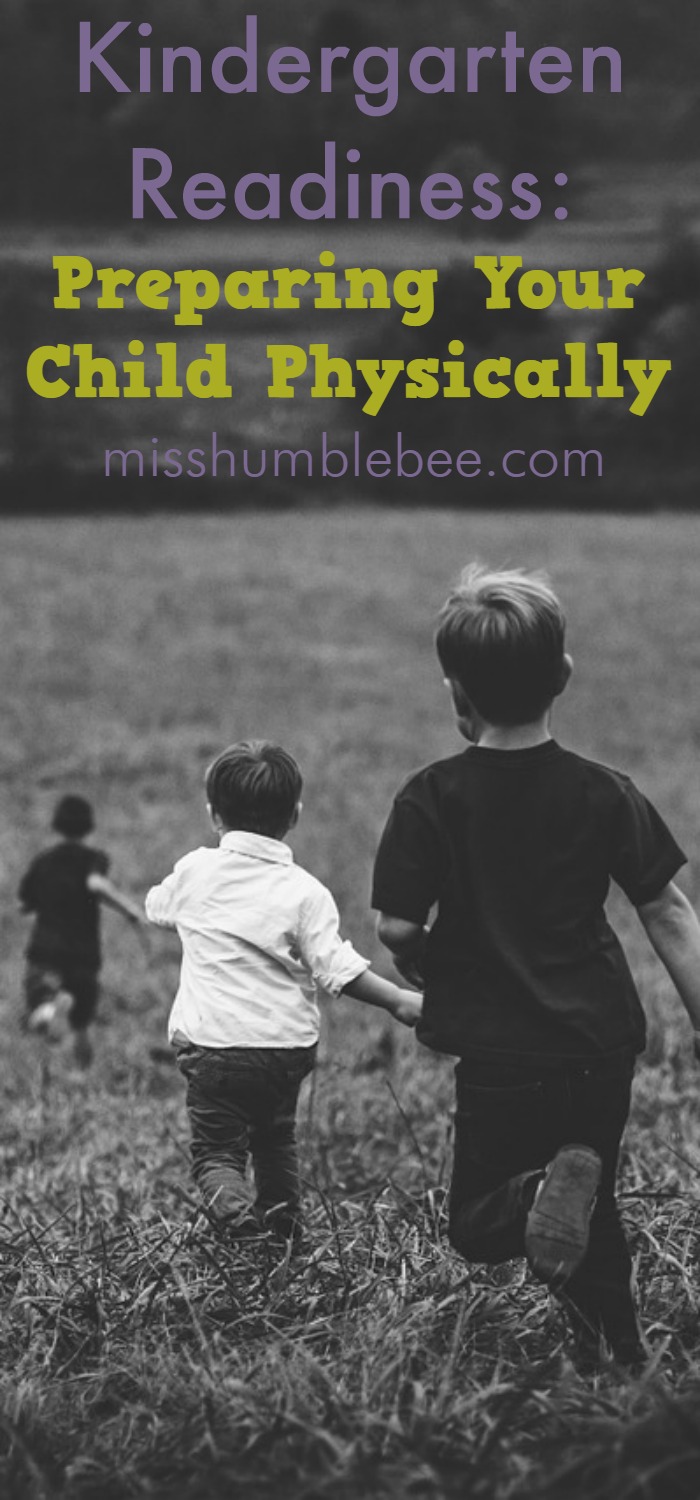 Kindergarten Readiness: Preparing Your Child Physically
We recently discussed the social skills your child should have before entering kindergarten and today we will conclude our series with the final piece of the puzzle, one that you may not have considered before: Physical skills.
You can get our comprehensive Kindergarten Readiness Checklist for FREE by signing up here.
Although children need to be developmentally ready before they can master the skills we've discussed in all parts of our series (academic, social, and physical), it is often easiest to see this in relation to physical skills. For example, we often erroneously think that if we can just drill the letter sounds into our children's heads over and over again, they'll just 'get' them, but we instinctively understand that little fingers need to develop dexterity before shoe-tying can be mastered.
That said, any type of development will stall if not given plenty of opportunities to practice. Skills build upon each other so the more chances a child has to work on them, the better.
Please note that every child develops at his own pace. Your child may excel in some areas and have a harder time in others, but not having mastery of every single skill does not necessarily mean he is not ready to start kindergarten. Take a big picture view when determining your child's readiness.
Gross Motor Skills
Running, jumping, skipping, hopping, catching, throwing: When we think of young children, we often get a mental picture of kids in motion.
Children love to move and for good reason. These are the years when their bodies, as well as their sensory systems, are developing at tremendous rates, and movement is crucial to that development. While the ability to run or hop might not seem like a necessary skill for kindergarten readiness, Angela Hanscom explains it best in her article, "Why So Many Kids Can't Sit Still in School Today":
The problem: children are constantly in an upright position these days. It is rare to find children rolling down hills, climbing trees, and spinning in circles just for fun.
Many children are walking around with an underdeveloped vestibular (balance) system today–due to restricted movement.
Gross motor movement is important not simply because we want our kids to be athletic, but also because it helps them develop the systems that will enable them pay attention and succeed in school.
The following resources contain great activities to encourage your child to move and develop the gross motor skills she'll need.
Simple Awesome Gross Motor Activity for Preschoolers :: How Wee Learn
7 Super Brain-Building Gross Motor Activities :: Integrated Learning Strategies
A Sample Weekly Plan of Gross Motor Activities :: Hands On as We Grow
Gross Motor Activities from A to Z :: Still Playing School
Color Cube Gross Motor Game for Toddlers and Preschoolers :: Cutting Tiny Bites
Core Strengthening Activities for Kids :: The Inspired Treehouse
Fine Motor Skills
When it comes to participating in classroom activities, fine motor skills are just as important as gross motor skills. What skills should your child have a handle on before beginning school? Properly holding a pencil and using scissors are both important, as is the ability to color within the lines and put simple puzzles together.
Below are some resources to encourage fine motor development.
Miss Humblebee's Academy 
35 Fine Motor Activities :: Growing a Jeweled Rose
Lego Game- Roll, Build, and Create :: No Time for Flash Cards
DIY Montessori Fine Motor Activities :: Racheous
Cutting Straws and Playdough :: Mom Inspired Life
Cutting- Everything You Need to Know, Advice from an OT :: Miss Mancy
Five Tips for Pencil Grasp Development :: Learning 2 Walk
How to Teach a Child to Hold a Pencil Correctly :: Sight and Sound Reading
Self Help Skills
Finally, in a classroom where students outnumber the teacher by up to 20 to 1, it's important that your child be able to take care of her own self-help needs, such as opening her own food containers and using the bathroom independently.
The following resources will help your child practice some of these skills.
Buttoning Tips and Tricks :: Sugar Aunts
Montessori Practical Life- Zipping Frame :: Carrots Are Orange
Helping Kids Learn to Open Food Packages :: The Inspired Treehouse
While we didn't go over every skill your child needs for kindergarten, hopefully these posts have given you a better idea of whether your child is ready to being school. And remember, you can receive our full Kindergarten Readiness Checklist with all of the skills your child needs for free when you sign up for our newsletter.
Did you find this post helpful? Share it with your friends who have children nearing kindergarten-age!