Teaching children to write with their right correct hand is essential.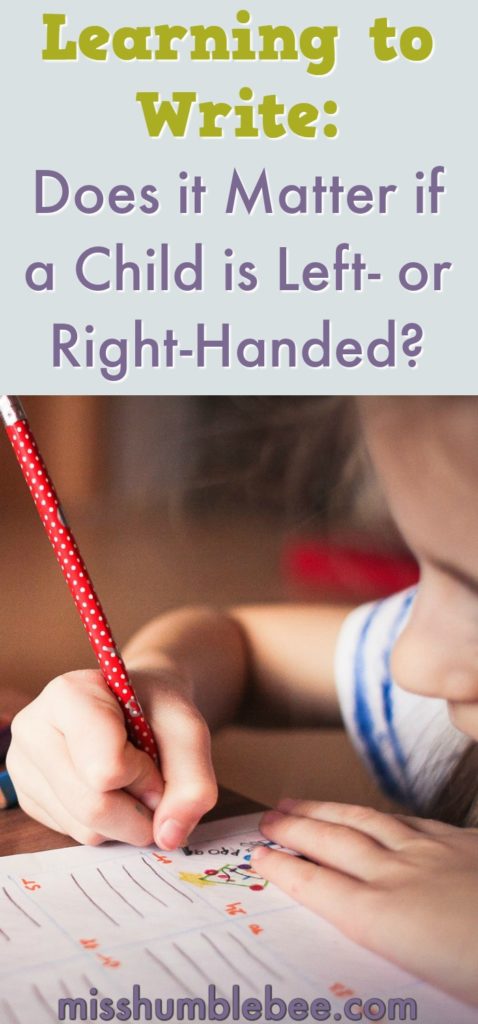 Now that school is about to begin, I've been getting a lot of questions regarding hand dominance.
How do you know which hand your child is supposed to write with?
Can you teach your left-hander to write like a right-hander?
How do you know if your child is ambidextrous?
Could my child have dyspraxia or dyslexia?
The first thing I want to say to the parents who are concerned is, "Relax, it will all work out."
For some children in preschool or kindergarten, forming letters and numbers is just beginning.  Most children have a "dominant" hand by age four, yet others do not until they are five or six.
The best advice I can give is to not pressure your little one at this time.  Provide lots of writing exploration at home, sit back, and enjoy this learning process with your child.  After all, you just might have a child who is ambidextrous, and if you do, it's lots of fun! (Did I mention that I'm ambidextrous?)
Check out this great article, The Left-Handed Child in a Right-Handed World. Not only does it offer a list of activities your child can do to help you determine if he's right- or left-handed, but it also describes proper pencil and paper placement for left-handers, as well as common problems your left-handed child might run into.
If you do find that your child is left-handed, a great resource for left-handed letter formation is available from lefthandedchildren.org.
In the few instances when there is cause for concern, you can always talk with your child's teacher and doctor to get their opinion.
If you'd like a simple way to help your child practice writing her own name, email Miss Humblebee's Academy for your own FREE personalized name writing practice sheet at support@misshumblebee.com
Do you have additional tips that can help? Tell us in the comments below.