I'm sitting at a corner booth in an otherwise deserted restaurant. I pass off the lack of customers on the fact that it's mid-afternoon instead of dwelling on other possibilities, like hairs in the food or multiple reports of food poisoning.
A petite, blonde waitress approaches, carrying a mug of coffee in one hand and a plate with a delicious-looking cookie in the other. She sets them down carefully and asks if I need anything else. I tell her I'm all set, thank her, and lift the mug to take a sip, but before it reaches my lips, she begins to yell.
"DON'T DRINK THAT YET!!!!"
I freeze, mug halfway to my mouth, and glance at her. She points a tiny finger in the direction of the kitchen.
"I'm not done getting our food. Wait for me, Mommy!"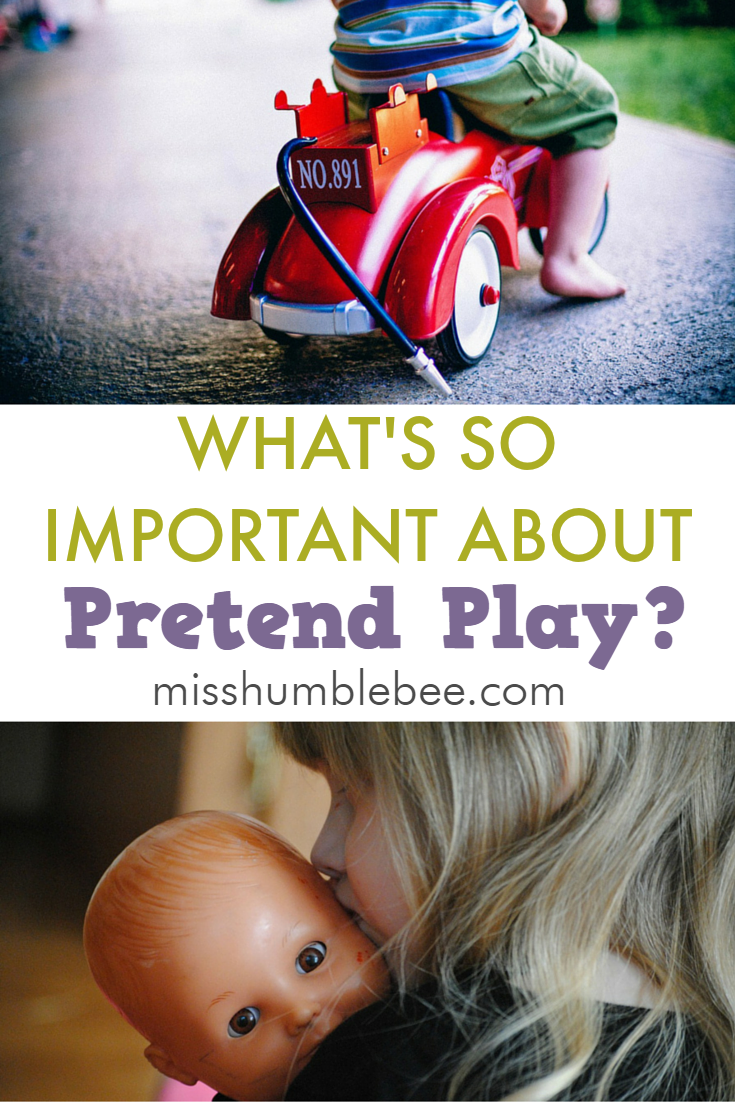 What's So Important About Pretend Play?
If you have young children, you've probably noticed their penchant for make-believe. One minute they're fairy princesses, the next they're ninjas. In their little hands, ordinary objects morph into all kinds of things: sticks become swords, bananas become phones, a grassy lawn becomes alligator-infested waters.
It's easy to pass off our children's pretend play as just plain old play, but within that play there is far more going on than meets the eye. Pretend play is crucial to a child's development. Consider the following benefits:
Educational/Academic
Believe it or not, every time your child dons a costume and makes you participate in yet another round of Grocery Store, he is learning valuable skills that will help him when he goes to school. Different activities will teach different skills of course, but consider some of the many concepts that are introduced and practiced during pretend play:
Pre-reading skills, such as identifying letters and environmental print
Math skills, such as shape and number identification
Money (simply becoming aware of money and what it is used for is an important first step that will lead to understanding more difficult concepts)
Social studies (learning about communities, careers, business, etc.)
Science (learning about nature, how things work, experimenting, etc.)
Emotional
Pretend play is an excellent way for children to explore feelings (both theirs and others) in a safe and non-threatening environment. This type of play provides the perfect opportunity to role play various situations. If your child has been struggling in a particular area (frequent tantrums, fears, etc.), you may want to utilize your child's play time to work out some of those feelings.
We all know that trying to reason with a child in the heat of the moment never goes well and can often make the situation worse, but if you can talk through those situations during calm moments and make it into a game, you may find your child better able to cope the next time those feelings come up. Swapping roles (you as the kid and your child as the parent) is also a great way to teach empathy.
Social
Some of the greatest skills a child needs to learn are social skills. Often we become so focused on academics that we fail to remember how crucial social skills are to daily life. Your child may be able to read at the age of four, but if she doesn't know how to get along with the people around her, she's in for a tough go at life.
When done with other children, pretend play provides countless opportunities to practice social skills. Children must learn to take turns, both with toys and speaking. They must learn conflict resolution techniques for the moments they don't agree. They must learn to be polite, to listen, and to be responsible for their own behaviors.
As you can see, pretend play is far more than just play. So when your children want to pull out the Halloween costumes you just bought and use them a couple of weeks early, you may want to think twice before saying no. Just think of all they'll learn while they have them on.