These days there's a holiday for everything. Every day of the year has multiple things to celebrate, whether it's National Pig Day (March 1st) or World Mosquito Day (August 20th). If you can dream it up, it probably already has a day assigned to it.
While it's silly to consider celebrating every special day, it can be a fun way to pass the time. As March approaches and we eagerly anticipate the beginning of spring, why not celebrate some days that are not only fun, but also educational?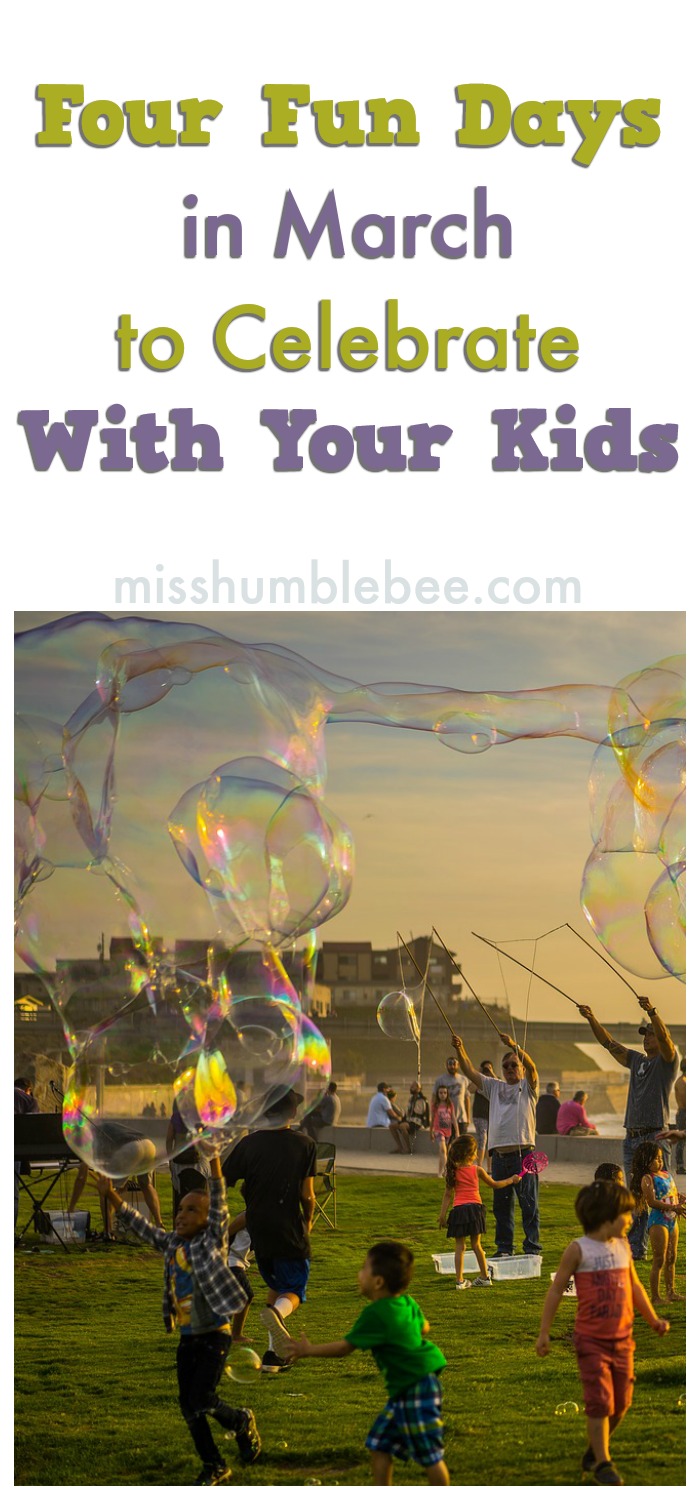 Four Fun Days in March to Celebrate With Your Kids
March 2nd- Read Across America Day
We all know the importance of reading as a foundation for our kids' learning and success, both in school and life. Sometimes in the midst of that though, we forget that reading is supposed to be fun and enjoyable!
Take March 2nd to bring joy back to reading. Go to your local library and let your kids pick out the books that most interest them. Spend time curled up together reading.
Check with your child's school to see if they have any events planned for the day. If not, consider offering to volunteer in your child's classroom and plan some fun activities. The NEA has a great resource page of activities for classrooms. Seussville.com is also a great resource.
Need some inspiration to help your kids pick out books they'll love? Here's a list of over 110 of the best children's books.
March 3rd- World Wildlife Day
The world is full of amazing creatures!
Your child probably has a favorite animal, or maybe a few. Today is a great day to learn more about those animals or to discover some you don't know much about.
If you live near a zoo, it's the perfect day to visit. Not only can you see the animals up close, you can also learn about the zoo's conservation efforts for animals that are in the wild and/or endangered.
Today is also a great day to do some fun animal-themed activities. Miss Humblebee's Academy has a section of our website dedicated to Learning with Animals and another dedicated to Learning with Bugs. Check them out for inspiration!
March 17th- St. Patrick's Day
March 17th, the day that everyone is Irish.
Whether you love to go all out for this holiday or take a simpler approach, it can be a fun day to celebrate.
Here are a few ideas to get you started:
Wear green
Dye your kids' milk green (or their toilet water)
Build leprechaun traps together (bonus: this is a great STEAM activity)
Make a traditional Irish dinner (it doesn't have to be corned beef and cabbage)
Read books about St. Patrick or Ireland (Tomie dePaola has two good ones: Patrick, Patron Saint of Ireland and Jamie O'Rourke and the Big Potato)
Attend a St. Patrick's Day parade
Make shamrock shakes
March 20th- International Day of Happiness
It's hard to argue with wanting to be happier. The International Day of Happiness is all about making that happen, and it's not just about ourselves. The Action for Happiness pledge is "I will try to create more happiness in the world around me" and we think that's a great goal!
Take this day with your kids to spread happiness to the people around you.
If your kids want to focus on the happiness of their friends, try one of these six ideas to celebrate friendship.
If you want to spread happiness in your community, spend the day dropping off treats to first responders, donating time or resources to people in need, or offering a friendly smile and a helping hand to your neighbors.
Your kids' happiness (and yours!) is important too, so don't forget to spend some time together doing something you all love.
What days do you enjoy celebrating with your kids?